Technical Team
We are here to help you...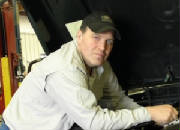 Jeff
Founder
Jeff is the "J" in J. White's. He is the Founding Partner of our business. His automotive career started as a child at Circle Gulf, his family's repair shop, formerly located on route 9 in Natick. Jeff's experience includes work at independent general repair shops, Land Rover dealerships, a Porsche, Ferrari and Lamborghini specialty shop and technical school training. The credentials Jeff has earned include Land Rover factory gold certification and ASE master certification. Today, Jeff can be spotted assuming a number of roles. He still works on cars and supports the role of Service Writer. Jeff constantly looks for new ways to keep the business growing and his creativity and out of the box thinking, never let the team or our customers down. When Jeff is not driving a Land Rover, he is driving a Dodge.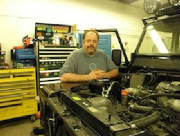 Peter
Restoration Specialist
Peter is a second generation Land Rover enthusiast with twenty years of restoration, repair and maintenance experience. His past experience includes working as a manager for a multi-national fastener company and his father's Land Rover restoration company. He is also known as our "interior guy" who has done some amazing custom interiors since joining our team. Peter is a highly skilled off road driver, who knows how to use off road machines to their highest capacity. He is a four-wheeler that sews! When Peter isn't driving the custom Land Rover D90 that he built himself, he is driving a Volkswagen.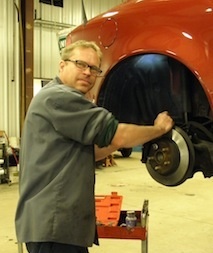 Mark
Technician/Alignment Guru
Mark performed repairs for years at a general repair shop in the local area before joining our team. He is our all makes all model technician who offers years of experience and skill, along with some tricks of the trade that only a seasoned professional aquires for those really tough cases that demand more than just swapping a part. Mark is our alignment King and has recently found his natural talent for installing aftermarket accessories. Mark is currently driving a Toyota, but we see him in a fully restored muscle car.