Saturday, January 30, 2010
What drives your auto technician to reach for excellence time after time?
Let's face it, working on cars can be hard work. It's messy, physically demanding,sometimes mind boggling and many times the work that goes into each job goes unnoticed.
Every once and while somebody will recognize the work done by their auto technician, and when that happens, it fuels the passion that brought the technician to the industry in the first place.
Thank you Mr. Neeley, for taking the time to recognize our work and for giving J. White's Automotive the opportunity to serve your automotive needs!
"I recently had work done on my Freelander at JWhites.(timing belts, very big job...) Not only were the prices more than reasonable (and much better than any LR dealer)but the service was great as well. Jeff was very knowlegeable and friendly. I will absolutely be taking my LR there for all repairs going forward..."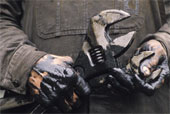 6:32 am est
Monday, January 25, 2010
Daisy Troop 85 Food Drive Raffle Winner Announced!
Congratulations to Jen Katsirubas of Upton!
Jen took the time to support the efforts of the Daisy Troop 85 by donating to their collection box for the benefit of the United Parish Food Pantry. J. White's offered a chance to win a free oil change to each person who donated to the drive and Jen was the lucky winner!
We are proud to be part of this community effort and to recognize that together the combined time, efforts and resources of the people and businesses of our community can have a positive impact on the place we call home.
6:47 am est
Saturday, January 23, 2010
Winter Tip # 2 - Did you know that cold temperatures can change your tire pressure?

Did you know that cold temperatures can change your tire pressure? It can! Cold weather deflates your tire pressure.
Maintaining proper air pressure in your tires during the cool winter weather will allow you to have good traction and handling no matter the temperature.
If your vehicle's tires are under inflated by only 6 psi it could lead to tire failure. Additionally, the tire's tread life could be reduced by as much as 25%. Lower inflation pressure will allow the tire to deflect (bend) more as it rolls. This will build up internal heat, increase rolling resistance and cause a reduction in fuel economy of up to 5%. You could experience a significant loss of steering precision and cornering stability with a slight decline in pressure. While 6 psi doesn't seem like much, it usually represents about 20% of the tire's recommended pressure.
7:34 pm est