Saturday, July 14, 2012
In alignment with customer needs.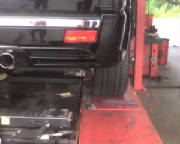 Our customers offered their feedback and we listened! They were tired of having to go somewhere other than our automotive repair shop for their alignments.
We are proud toannounce thatour alignment equipment will be installed next week. Our once tiny little back yard shop has morphed over the years into your one stop automotive care center thanks to good old fashioned hard work resulting in customer retention, satisfaction and referrals.
Keeping your tires aligned results in tires that last longer, easier steering, improve gas mileage, smoother rides and safer, more secure driving.
Keeping aligned with customer needs helps us to continue to be there to service your automotive repair issues.
6:57 am edt