Thursday, May 28, 2015
We Care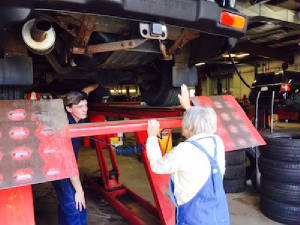 We Care.

(This message was brought to you by our Technician Dan, who sometimes looses sleep at night thinking about his best approach to solving your automotive problems. Thank you Dan, for choosing our team to be the place you bring your talents as a technician to, day after day!)
9:03 pm edt
Sunday, May 24, 2015
Keeping you in the ride of your choice.
Through regular service and maintenance, our customer Jeff has stayed in the ride of his choice for 215,000 miles and still going strong. Way to go Jeff!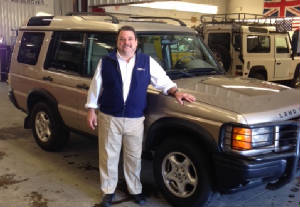 6:20 am edt
Friday, May 22, 2015
This just made our day!
Thank you Scott, for taking the time to write a review and post it on Google. You just made our day!
I have been going to J. White's since they opened the shop in Framingham, MA. I have a Jeep Wrangler and my wife drives a Volvo. We have both cars serviced at J. White's. I am always looking for new parts to put on the Wrangler and have had all aftermarket work done at this shop. They also do restores of Land Rovers, Jeeps, and all types of classic automobiles. Attention to detail in this shop is amazing. They make you feel like your part of the family. They have highly specialized mechanics that get assigned daily to the vehicles that are being serviced. I have read reviews for everything not just finding an auto repair shop. The first thing you do is Google the reviews. To be honest you have to take the good and the bad. Some people no matter what you do can't be made happy about anything. If your looking for a quality repair facility and you have had enough of the dealerships try this place out. People on the Cape and the Islands send their vehicles to this shop and there is a big reason why they do this. I stumbled upon J. White's and have seen fantastic mechanics come and go over the years. What keeps me coming back and trusting them is the customer service and highly trained professional on the staff. Your greeted with a smile and you have there complete attention even on a busy day. Don't just listen to my review stop by and chat with them. Start off with an oil change. Test drive the shop you will want to come back. That's how I found this place. I got tired of the dealerships and they didn't have the specialized mechanics for the type of work I wanted done. It's fun to just see what vehicles are being serviced for that day. I hope this review is helpful for people looking for an auto repair facility. Thanks, Scott Curtis (Shrewsbury, MA)
12:48 pm edt
Saturday, May 16, 2015
Keeping You In The Ride Of Your Choice
We love diversity.

10:17 am edt
Monday, May 11, 2015
Automotive Repair and Service Waiting Room Magic
More waiting room magic! Thank you Daniel for supporting The New England Center For Children and our charitable art gallery. Thank you Bianca for being a contributing artist. Together we can make a difference and foster a warm feeling of community here in our corner of the world, helping others through art and connection.
2:00 pm edt
Thursday, May 7, 2015
One of our own wins Best in Show.
Congratulations Mary and Paul for winning best in show during Nantucket's Daffodil Festival. What an amazing job you did decking out the Land Rover Series Truck. Everybody is already wondering what you will be surprising us with next year :) We wish you a great summer and are so happy to see, it is already off to a great start!
4:47 pm edt