Owners
We are here to help you...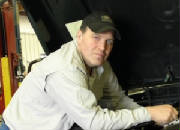 Jeff
Founder
Jeff is the "J" in J. White's. He is the Founding Partner of our business. His automotive career started as a child at Circle Gulf, his family's repair shop, formerly located on route 9 in Natick. Jeff's experience includes work at independent general repair shops, Land Rover dealerships, a Porsche, Ferrari and Lamborghini specialty shop and technical school training. The credentials Jeff has earned include Land Rover factory gold certification and ASE master certification. Today, Jeff can be spotted assuming a number of roles. He still works on cars and supports the role of Service Writer. Jeff constantly looks for new ways to keep the business growing and his creativity and out of the box thinking, never let the team or our customers down. When Jeff is not driving a Land Rover, he is driving a Dodge.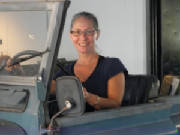 Shirley
Co-Pilot
Shirley is our Managing Partner and Project Manager, acting as the liason for big picture visions and day to day details. Shirley's higher education in business administration and accounting led her to some interesting postions in the field of business management early in her career. Her experience in broadcasting management ended at the legendary rock music station, WBCN with a move to the managing office for the band, Aerosmith. Working with a cast of celebrity characters like no other in the past, has been catalyst to Shirley's current role as project manager for vintage car enthusiasts refurbishing their prized vehicles or purchasing their latest addition for their collections. Being a full-time working mother of an active son has served as the best training in understanding the needs of our general repair customers who rely heavily on their transportation day in and day out. When Shirley is not driving a Land Rover, she is driving a resurrected BMW.